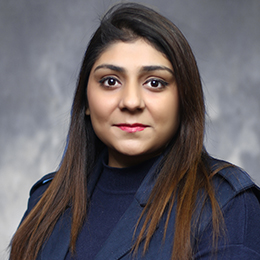 Dr. Saman Maqbool
Department Affiliation:
Department of Anatomy, Demonstrator
Date of Joining :
12/20/2021
Professional Summary
Dr. Saman Maqbool is a demonstrator Anatomy Deapartment at SMDC , Lahore.
Dr. Saman Maqbool acquired her medical education at Allama Iqbal Medical College, Lahore. She completed her internship at Jinnah Hospital, Lahore and Sheikh zaid Hospital, Rahimyarkhan.
Academic Profile

Title

From

To

Institution

City/Country

 

Demonstrator, Anatomy Department

02/2021

Present

Shalamar Medical and Dental College, Shalamar Institute of Health Sciences

Lahore, Pakistan

 

House job

Jinnah hospital Lahore

Medical Unit – III16 December 2017

Cardiology / CCU

16 March 2018

15 March 2018

 

 

15 June 2018

Jinnah hospital, lahore

Lahore, Pakistan

 

 

House Job

Sheikh ZaidHospital Rahimyarkhan.

Peads Surgery

01 June 2017

           

 

 

Surgical Unit – II

01 September 2017

 

31 August 2017

 

 

 

30 November 2017

Sheikh Zaid hospital, Rahimyarkhan

Rahim yar khan, Pakistan.

 

 

 

 

 

 

 

 

 

Research & Publications

Title of Research/ Published Article

Year of Publication

Journal Name

Author/ Co-authors

ISSN #

 

 

Percutaneous Nephrolithiotomy (PCNL); Upper pole versus Lower pole Calyx Puncture

2018

IAJPS

Dr. Saman

Dr. Zartashia Khan

Dr. Aberah Azhar

2349-7750

 

 

A study on the assessment of maxillofacial injuries in Sheikh Zayed Hospital Rahimyarkhan

2018

IAJPS

Dr Saman

 Dr. Zartashia Khan

Dr. Aberah Azhar

2349-7750