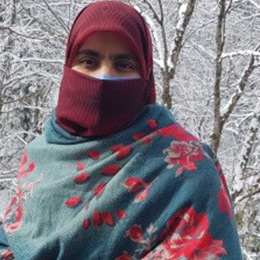 Dr. Hina Pasha
Specialty: Physiology
Department Affiliation: Department of Physiology, Assistant Professor
Date of Joining: 31/05/2005
Professional Summary
Dr. Hina Pasha is a Physiologist & acting as Assistant Professor in Physiology department at SMDC.
Dr. Hina Pasha acquired her medical education at Quaid- e- Azam Medical College, Bahawalpur. She completed her internship at Services Hospital, Lahore, and completed her Physiology residency and fellowship at Services Institute of Medical Sciences and Akhter Saeed Medical & dental College, Lahore.
Prior to joining Shalamar, Dr. Hina Pasha was a working as a demonstrator in Akhter Saeed Medical & Dental College, Lahore.
Experience

 

Title

From

To

Institution

City/Country

Assistant Professor of Physiology Department

30/12/2016

Present

Shalamar Medical and Dental College

Lahore, Pakistan

Senior Demonstrator

31/05/2016

29/12/2016

Shalamar Medical and Dental College

Lahore, Pakistan

Demonstrator

01/07/15

31/08/15

Physiology department, Akhter Saeed Medical & Dental College

Lahore, Pakistan

House Officer

21/ 10/10

20/04/10

Department of Anesthesia, Services Hospital

Lahore, Pakistan

House Officer

21/04/09

20/10/10

Department of Gynecology & obstetrics, services Hospital

Lahore, Pakistan

Fellowship / Residencies

Title

From

To

Institution

City/Country

FCPS Trainee

March 2013

30/06/15

Physiology department, Akhter Saeed Medical & Dental College

Lahore, Pakistan

FCPS Trainee

June 2011  

Feb 2013

Physiology department, Services Institute of Medical Sciences

Lahore, Pakistan

Staff- Pathologist

07/1994

06/2000

Mallory Institute of Pathology

Boston, Massachusetts, U.S.A.

Staff- Pathologist

11/1994

06/1996

Boston City Hospital

Boston, Massachusetts, U.S.A.

Staff- Pathologist

02/1994

06/1996

Boston University Medical Center Hospital

Boston, Massachusetts, U.S.A.

Award & Certification

Title

From

To

Institution

City/Country

Certificate in Health Profession education

06/20

12/20

University of Lahore

Lahore, Pakistan

Research & Publications

Title of Research/ Published Article

Year of Publication

Journal Name

Author/ Co-authors

ISSN #

Levels of interleukins in pre-diabetic and non-diabetic beta

thalassemic children

2021

Rawal Medical Journal

Nafisa Nihal, Rukhshan Khurshid, Uzma Jabbar, Naim Ahmad Nizami,

Maira Mahmood, Hafiza Hina Pasha

 

Prevalence of Iron Deficiency Anemia in Hemodialysis patients at NIKD

2021

Pakistan Journal of Medical & Health Sciences

 

 Awais Amjad, Sauda Usmani, Hafiza Hina Pasha, Waqar Ahmed Khan,  Muhammad Adeel Qamar, Zia Ul Mustafa, Uzma Ather, Sibga Zulfiqar, Seemi Habib

 

Effect of Plasma Chromium on Oxidative Stress Biomarkers in Pharmaceutical Workers

2020

Journal of Sharif Medical & Dental College

Uzma Jabbar, Rukhshan Khurshid, Mazhar Mushtaq, Hafiza Hina Pasha, Hasan Akbar khan, Samra Hafeez

 

Effect of Ethanolic Extract of Clove (Eugenia Caryophyllata) on Pain in Mice

2019

Journal of Akhtar Saeed Medical & Dental College

Saima Tabassum, Hamid Javaid Qureshi,  Ambreen Anjum, Sobia Manzoor, Hafiza Hina Pasha,  Wardah Toseef

 

Prediction of vital capacity through BMI (Body mass index) and tidal volume in healthy teens

2019

Professional Med J

Ayesha Sadiqa, Nabiha Saeed, Hafiza Hina Pasha

 

 

Correlation of serum adiponectin with lipid profile in diabetic and non-diabetic rats

2019

Esculapio

Hina Pasha, Ayesha Sadiqa, Sauda Usmani, Saima Tabassum, Hamid Javaid Qureshi

 

BMI and Hand Grip Force: Boys win the Lead

2019

Esculapio

Ayesha Sadiqa, Hafiza Hina Pasha, Farida Munawar, Nayab Fatima

 

Is Learning without Thought a Labor lost? Student's Perceptions of Using Prezi in Physiology Lectures

2018

Biomedica

Farida Munawar, Hafiza Hina Pasha, Talha Jamal Bhatti

 

Effect of Coriandrum Sativum Seeds on Serum Glucose and Serum Adiponectin

2017

Esculapio

Hafiza Hina Pasha,  Hamid Javed Qureshi

 

 

Qureshi Pharmacological Effects of Coriander (Coriandrum Sativum) Review article

2017

Esculapio

Hafiza Hina Pasha,  Hamid Javed Qureshi