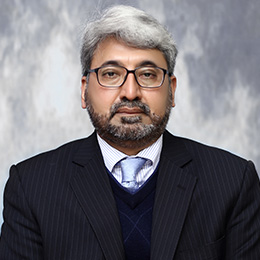 Prof. Dr. Muhammad Haroon Yousuf
Specialty: Consultant Physician & Gastroenterologist
Department Affiliation: Professor of Medicine
Date of Joining: 26-04-1995
Professional Summary
Dr. M. Haroon Yousuf is consultant Physician, Gastroenterologist and Hepatologist SMDC and Head of Gastroenterology Department and Medical Unit II.
He completed his medical education at King Edward Medical College, Lahore.
He did his internship at Mayo Hospital Lahore and completed his medicine residency and fellowship at services hospital Lahore.
Prior to joining to Shalamar, Dr. Haroon Yousuf was senior registrar at services hospital Lahore.
Academic Profile

 

Title

From

To

Institution

City/Country

Professor, Head Of Gastroenterology & Hepatology Department

15/July

2016

Present

Shalamar Medical and Dental College, Shalamar Institute of Health Sciences

Lahore/Pakistan

Associate Professor

15/Jan

2014

14/July

2016

Shalamar Medical and Dental College, Shalamar Institute of Health Sciences

Lahore/Pakistan

Assistant professor

01/Sep

2009

 

14/Jan

2014

 

Shalamar Medical and Dental College, Shalamar Institute of Health Sciences

Lahore/Pakistan

Consultant

 

26/July

1995

 

31/Aug

2009

Shalamar Medical and Dental College, Shalamar Institute of Health Sciences

Lahore/Pakistan

Fellowship / Residencies/Clinical Training

Title

From

To

Institution

City/Country

FCSP

1989

1991

CSCP

Lahore /Pakistan

Senior Registrar

02/1992

04/1995

Services Hospital

Lahore /Pakistan

 

 

 

 

 

Clinical Attachment / Hospital Appointments

Consultant

 

26/July

1995

 

31/Aug

2009

Shalamar Medical and Dental College, Shalamar Institute of Health Sciences

Lahore/Pakistan

 

 

 

 

 

Research & Publications

Title of Research/ Published Article

Year of Publication

Journal Name

Author/ Co-authors

ISSN #

A comparative  study of efficacy and safety of three antimicrobials in the treatment of enteric

1992

Pak.J. Gastroenterology

M.Haroon Yousuf,S.S Hassain, A. Mohsin, Nusrat Ara

vol6(2);46-48

Effect of oral nifedipine im patients with irritable bowel

1992

Pak.J. Gastroenterology

Aftab mohsin, M Haroon Yousuf, Nusrat Ara

vol6(1);28-31

Hepatitis B vaccination: An experience in one hundred heath personnel over three years at services hospital, Lahore.

1993

Pak.J. Gasstroenterology

AMohsin, Akhter Rasheed, M Haroon Yousuf, Waheed Uz Zaman Tariq, Zahoor ul Hassan, Wasim Amir,S. Hasnain syed

vol7;19-22

 

Management Severe Hepatic Injuries.

1993

Pak.J.

Gastroenterolgy

Yawar Saeed,M.Haroon Yousuf,S.Hasnain Syed.

vol7;No1 (27-33)

 

Comparison of Lomefloxacin vs. Trimethoprin/Sulphamethoxazolein Acute Bacterial Diarrhea..

1993

Pak.J.

Gastroenterolgy

M.Haroon Yousuf, Yawar Saeed, A.Mohsin, WasimAmir, S.S.Hasnanin.

vol7 no 1 ;78-81

 

Irritable Bowel Syndrome: An Approach towards Positive Diagnosis.

1994

Pak.J.

Gastroenterology

.S.Tanzeem,Haider RazaM.Haroon Yousuf, S.S.Hasnain, A.Mohsin, Nusrat Ara.

vol8 No 2 ;14-18

Diagnosis of Chronic Liver Diseases Various Alternatives.

1994

Pak.J.

Gastroenterology

Wasim Amir,M.Haroon Yousuf, S.S.Hasnain, A.Mohsin, Nusrat Ara.

vol8(2);53-56

 

Amoebic Liver Abcess-Comapiring Chemotherapy Alone with additional Aspiration.

1994

Pak.J.

Gastroenterology

A.Mohsin,S.Nasir,R.Zaidi,Tanzeem Haider,Haroon Yousuf,S.J.R.Gardezi,Tariq Suleman,Wasim Amir,S.Hasnain Syed.

vol8(1);36-37

 

A Comparative study of Efficacy and safety of Lansoprazole and Cimetidine in the treatment of Duodenal Ulcer.

1995

Pak.J.

Gastroenterology

S.Hasnain Saeed,M.Haroon Yousuf,A.Mohsin,WasimAmir,

vol9 No 2;15-17

 

Initial management of Acute Variceal Hemorrhage-Comparison of Octreotide and Sclerotheraphy

2000

JCPS

M.Haroon Yousuf, Hafiz Abdul Rauf, Mirza Ilyasbaig,M.Akram &Zahid Rizwan

vol.10 No3;95-97

 

Frequency Of Risk Factors for Transmission of Hepatitis C Virus.

2004

Pak.J.

Gastroenterology

M.Johar Amin.M.Haroon Yousuf,Sajjad Iqbal,M.Anees,Asim Murtaza,Alia Ali Johar,Ayesha Saleem.

vol18 No1 32-35

HCV Infected Patients: Assessment of Major Genotypes and Sub Types of Hepatitis C Virus

Jun,2007

Professional Medical Journal

Sajjad Iqbal, Rashid Ahmed, Muhammad Haroon Yousuf

Vol14(2)

Incidence and Patron of Deranged Liver Functions in Patients with Dengue Fever.

2010

Pak.J.

Gastroenterology

Muhammad Haroon Yousuf, M. Mumtaz Athar, Nauman Dawood, Iftikhar Yousaf

vol25 (1) 41-45

Experience of Histoacryl Injection in Gastric Varices.

2011

Journal of Rawalpindi Medical College

M. Mumtaz Athar, M. Haroon Yousuf, Ali Haider.

vol15(2);96-98

Incidence and Patron of Deranged Liver Functions In Patients With Dengue Fever

2011

PAKISTAN J. GASTROENTROLOGY

Muhammad Haroon Yousuf, M. Mumtaz Athar, Nauman Dawood, Iftikhar Yousaf.

vol25

 

Culture and Sensitivity Pattern of Ascetic Fluid in Patients with Liver Cirrhosis Complicated with Spontaneous Bacterial Peritonitis.

2011

PAKISTAN J. GASTROENTROLOGY

M. Mumtaz Athar, M. Haroon Yousuf, Ali Haider, Nida Arshad.

vol25(1)

 

Experience of Histoacryl Injection in Gastric Varices

2011

Journal of Rawalpindi Medical College

M. Mumtaz Athar, M. Haroon Yousuf, Ali  Haider.

Journal of Rawalpindi Medical College

Efficacy OF Rifaximin Innervations of Recurrent Hepatic ENCEPHALOPAPHY in LIVER CIRRHOSIS

2013

PAKISTAN J. GASTROENTROLOGY

Dr. M. Iftikhar Yousaf, Dr. Madeeha  Gulzar, Dr. Mariyam Ali wala, Dr. Mina Khalid and Prof.M Haroon Yousaf

vol27, page 25 to 30.

 

Epidemiological Changing in Hepatitis C Virus GENO Type and There Roots of Transformation in

2013

PAKISTAN J. GASTROENTROLOGY

Dr. Sajjad Iqbal, Prof. M. Haroon Yousaf, and Dr. Rasheed Zaya

Page 13 to 20.

 

Early prediction of therapy response in patients and benefits of treatment extension in non-responders.

2015

The Professional   Medical  Journal

Dr sajjad Iqbal, Dr. Khalil u Rehman, Dr Muhammad Haroon Yousuf, Dr Nazish Jahan

vol22 No. 4,432-438

 

DECOMPENSATED CIRRHOSIS; Prevalence of Gastric Varices.

 

2015

The Professional Medical Journal

M. Haroon Yousuf

Vol. 22 No. 11 1397-1402

 

Adducing Misery to the insult: Mycobacterium tuberculosis and HIV co- infection:

2016

BIOMEDICAT

DR. Tahir naeem,DR. Maryam R. Tarar ,DR. Asma Sadia ,PROF. Mujeeb –ur- Rehman  Abid Butt , PROF. M.Haroon Yousaf, and DR. Saleem-uz- Zaman Adhami

vol32, 1, 49

 

Dramatic Response of HEP C Patients Chronically with HEP C virus GENO TYPE 3 to SOFOSBUVIR-BASED THERAPYS IN PUNJAB, PAKISTAN: A prospective study: 

2017

WORLD J. GASTROENTROLOGY

Dr.Sajjad Iqbal, Prof.  M. Haroon Yousaf, Dr. M. Iftikhar Yousaf:

 PAGE 7099-7905.

 

SOFOSBUVIR ADVERES EVENTS PROFILES IN A SUBSET OF PAKISTAN POPULATION

 

2018

JCPSP

Dr Sarwat Iqbal, Prof. M. Haroon Yousaf, Dr. Ayesha Raza and Dr. M. Iftikhar  Yousaf:

Vol28 no 2 page 146 to 149.

 

Awards and Honors

Title

Year

Institute

City/ Country

VICE PRESIDENT

2019-2021

 

Pakistan Society of Gastroenterology & G.I.Endoscopy

 

Karachi / Pakistan

 

Co-Chairman

(IRB committee )

 

 

2021- still

Shalamar hospital

Lahore /Pakistan

Professional Affiliations and Memberships

Title

From

To

Institution

Country

Pakistan Society of Gastroenterology

& G.I Endoscopy

 

1993

 

PSGPAK

Pakistan

Pakistan Society of Hepatology

 

1996

 

PSH

Pakistan