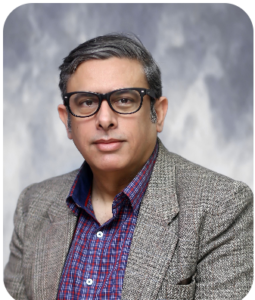 Dr Imran Basit
BSc,M.B.B.S, FCPS
MBBS, FRCS (Glasgow, UK), FCPS (Ophthalmology)
Consultant Ophthalmologist,
Associate Professor of Ophthalmology
Shalamar Institute of Health Sciences, Lahore
Department of Ophthalmology
About Dr. Imran Basit
Dr. Imran Basit is an Associate Professor in the Department of Ophthalmology at Shalamar Medical & Dental College in Lahore. He obtained his medical degree from Army Medical College and went on to pursue his residency at the Armed Forces Post Graduate Medical Institute (AFPGMI). With a dedicated career in the military, Dr. Basit served as an eye specialist from 1992 to 2019, acquiring valuable experience and honing his skills. During his tenure, he successfully completed his MCPS (Ophth) in 1993, FCPS (Ophth) in 1995, and FRCS (Glasgow, UK) in 2005.
In 2019, Dr. Imran Basit joined Shalamar Medical & Dental College, assuming the position of Associate Professor of Ophthalmology. Currently, he continues his valuable contributions to the field of ophthalmology as an Assistant Professor at the college. Additionally, he serves as a CPSP supervisor, providing guidance and mentorship to postgraduate residents as they pursue their ophthalmology training. Dr. Basit's extensive academic background, combined with his practical experience, positions him as a respected professional in the field of ophthalmology.
Associate Professor of Ophthalmology, Shalamar Medical & Dental College, Lahore
Dr. Imran Basit is a highly skilled and experienced surgeon specializing in both anterior and posterior segment surgeries. With his expertise in ophthalmology, he has performed a wide range of procedures, including but not limited to cataract surgery, glaucoma treatment, squint correction, vitreo-retinal surgeries, retinal detachment repair, and pars plana vitrectomy (PPV). His extensive knowledge and proficiency enable him to address various eye conditions and deliver optimal outcomes for his patients.
Postoperative corneal astigmatism and management
Assistant Professor of Ophthalmology 2019 – till date Shalamar Medical and Dental College, Lahore
Eye Specialist 1992 – 2019 Pakistan Army
Post Graduate Trainee 1988 – 1992 Armed Forces Post Graduate Medical Institute
2005 FRCS (Glasgow, Uk) College of Physicians and Surgeons Pakistan
1995 FCPS (Ophthalmology) College of Physicians and Surgeons Pakistan
1986 MBBS, Army Medical College
1993 MCPS (Ophthalmology) College of Physicians and Surgeons Pakistan
Department Chair, Department of Plastic and Reconstructive Surgery, Shalamar Medical College ,Lahore, Pakistan. 2018 – Date
Faculty, Associate Professor Department of Plastic Surgery Shalamar Medical College ,Lahore, Pakistan
Program Director Saudi Board o Plastic Surgery /Consultant Plastic,Hand,Reconstructive King Saud Medical City Riyadh. 2015 to 2018
Deputy Chairman Departmetn of Burns and Plastic Surgery King Saud MEDICAL CITY Riyadh. 2015-2018
Consultant Plastic and Cosmetic Surgeon Saad Specialist Hospital,Khobar ,Kingdom of Saudia Arabia 20111- 2015
Life member ophthalmological society of Pakistan Lahore
Life member vitreo retinal association of Pakistan