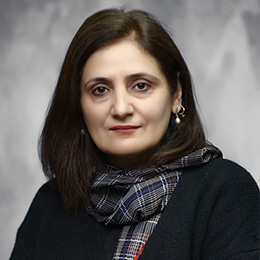 Prof. Dr. Anila Jaleel
Specialty: Biochemistry
Department Affiliation: Department of Biochemistry, Head of Department
Professional Summary
Prof. Dr. Anila Jaleel is a Biochemist & Head of Biochemistry Department at SMDC and Adjunct faculty Medical Education SMDC.
Dr. Anila Jaleel acquired her medical education at  Dow Medical college, Karachi. She completed her internship at Civil Hospital Karachi, and completed her Ph.D from Ziauddin University, Karachi. She did MHPE from University of Health Sciences, Lahore and MBA from Preston University.
Prior to joining Shalamar, Dr. Anila Jaleel was Head of Department  and Dean of Basic Sciences at Fatima Memorial College, Lahore.
Academic Profile

 

Title

From

To

Institution

City/Country

Professor, Head of Biochemistry Department

12/2018

Present

Shalamar Medical and Dental College, Shalamar Institute of Health Sciences

Lahore, Pakistan

Professor, Head of Biochemistry Department, Asst. Dean School of Health Sciences

Dean Faculty of Basic Sciences

12/ 2012

12/ 2018

FMH College of Medicine and Dentistry

 

Lahore, Pakistan

Professor Biochemistry, Director Medical Education

6/2012

12/2012

CMH Lahore Medical College

Lahore, Pakistan

HOD Biochemistry

12/2018

To date

Shalamar Medical and Dental College

Lahore, Pakistan

HOD Biochemistry Department and  Dean Basic Sciences               

12/2012

12/2018

FMH College of  Medicine and Dentistry

Lahore, Pakistan

Director Medical Education and Professor of Biochemistry

06/2012

12/2012

CMH Lahore Medical College

Lahore, Pakistan

Associate Dean Basic Health Sciences

09/2009

06/2012

Ziauddin University , Karachi

Karachi , Pakistan

Director Postgraduate Program

10/2009

06/2012

Ziauddin University , Karachi

Karachi, Pakistan

Chairperson Biochemistry Dept

05/2008

06/2012

 Ziauddin University

Karachi, Pakistan

Professor of Biochemistry

2004

06/2012

 Ziauddin University

Karachi, Pakistan

Associate Professor of Biochemistry

2001

2004

 Ziauddin University

Karachi, Pakistan

Assistant Professor of Biochemistry

1996

2001

 Ziauddin University

Karachi, Pakistan

Clinical Biochemistry Department

1995

1996

LNH

Karachi, Pakistan

House officer in Medical Unit 11

10/1992

04/1993

Civil Hospital

Karachi, Pakistan

House officer in Surgical Unit V

04/1992

10/1992

Civil Hospital

Karachi, Pakistan

Professional Experience

Chairperson and Professor of Biochemistry

Twenty five years' experience of teaching in the department of Biochemistry at Fatima Memorial College of Medicine and Dentistry, CMH Lahore Medical College and Ziauddin University with 17 years as Professor and HOD Biochemistry.

  Ziauddin University has introduced Problem Based Learning (PBL) as basic strategy of teaching since its inception in 1996.

Responsible for development of Biochemistry curriculum in an integrated fashion horizontally with basic subjects like Anatomy, Physiology and vertically with Clinical Sciences and Community Health sciences at Ziauddin University. Set up the Laboratory for Biochemistry practical. Worked as semester incharge for preclinical years. Participated actively to train the instructors to conduct the new method of learning such as Problem Based Learning.

 

2004

To date

Ziauddin  University

Karachi, Pakistan

Supervised Ph.D. and M.Phil. students at Ziauddin University

 

Got Biochemistry department inspected and approved for FCPS  by CPSP at Shalamar Medical and Dental College

 

Got Biochemistry department inspected and approved for M.Phil. By UHS at Shalamar Medical and Dental College, lahore

 

Got Biochemistry department inspected and  approved for MPhil by HEC at Nur International University , Lahore  

 

 

 

 

 

   Internal examiner

since 1996 to date

External examiner

for postgraduate and undergraduate examinations of Biochemistry at various institutes

Secretary

Academic Council Medical College

Since 2002

 

 

 

Secretary BASR

(Board of Advance Studies and Research) for three years

Secretary curriculum committee undergraduate program

 

 

 

 

 

PM & DC Inspector for Biochemistry

Conducted inspections of biochemistry departments at various medical colleges and postgraduate programs

 

 

 

 

Director Medical Education

Conducted meetings  with basic and clinical departments to review the curriculum

 

Conducted and facilitated workshops on medical education

 

Review the questions submitted by departments to examination department

 

Supervised the student affairs (Bonafide certificates, electives, transcripts, attendance and progress reports

 

Participates in admission process of new batch and conducted entry testy for them 

 

2012

2013

 

 

Associate Dean Basic Health Sciences

Meetings with the team of basic health sciences to review and improve the curriculum

 

Supervision and monitoring of the curriculum at all levels

 

Supervision of exam conduction

 

Participates in admission process of the new batch

 

2010

2012

 

 

Chairperson Postgraduate Curriculum Committee

Designed the rules and regulations syllabus and contents for M.Phil/ Ph.D. program

2010

2012

Ziauddin  University

Karachi, Pakistan

Clinical Biochemistry

·         Experience in running the Clinical Biochemistry department at Liaquat   National Hospital.

·         Interpretation of the clinical reports and coordinate with physician for abnormal values.

 

·         Supervision and training of Postgraduate students enrolled in Fellowship and Membership exams (FCPS & M.C.P.S).

·         Supervision and training of Medical Biotechnique students at Liaquat National Hospital

Teaching Experience

Responsible for the Teaching the undergraduate medical students

1996

To date

CMH Medical College and  Ziauddin Medical University

Lahore & Karachi, Pakistan

Teaching the subject of Biochemistry to Post Graduate students enrolled

03/1996

To date

Ziauddin Medical University

Karachi, Pakistan

Teaching Post graduate students

08/1995

03/1996

Liaquat National

Karachi, Pakistan

Membership in Organization

PM&DC (Accreditation body) inspector — conducted inspection of Biochemistry Departments for postgraduation and undergraduation at various institutes in Pakistan

•          Member HEC (Accredition body) curriculum integration committee

•          Member PMDC and HEC integration curriculum 2011 (Online available)

•          External Examiner Ph.D Biochemistry, University of Peshawar, Ziauddin University,Baqai University 2006-2010

•          Associate Editor   "World Applied Sciences Journal

•          Member  Subject Committee, National Testing Services (NTS)

•          Member Editorial Board International Journal of Molecular Biology and Biotechnology

•          Reviewers panel of  Saudi Medical Journal

•          Reviewers panel of Journal of Pakistan Medical Association (JPMA)

•          Member Board of Advanced Studies and Research, Ziauddin University

•          Member Academic Council, Ziauddin Medical College

•          Member Academic Council, Ziauddin University

•          Participates in development of National Curriculum 2006-7, Government of Pakistan

•          American Association of Clinical Chemistry

•          IAMSE member

•          Biochemistry and Molecular Biology Association of Pakistan

•          Pakistan Physiological Association of Pakistan

•          Chairperson Postgraduate Curriculum Committee-2009

•          Secretary Academic Council Medical College since 2003-2009

•          Secretary undergraduate curriculum committee since 2009-2010 ZMU

•          Secretary undergraduate curriculum committee since 2012-2018 FMH

•          Secretary undergraduate curriculum committee since 2019 SMDC

 

Research Experience

Grant Reviewer

Pakistan Science Foundation

Editor

Journal of Biotechnology and Biochemistry

Editorial Member

Research Journal of Medicine and Medical Sciences

Reviewer

Childhood and Obesity Journal
JCPSP
JPMA
Rawal Medical Journal
The Professional
Pakistan Journal of Medical Sciences

 

International Publications

Rehan Majeed, IftikarAhmad, Muhammad Sarwar, Saba Iqbal, Anila Jaleel.  To Evaluate the levels of Homocysteine and Zinc in patients with variable duration of Type 2 diabetes Mellitus. Europeon Journal of Biomedical and Pharmaceutical Sciences, 2021;8:38-45 (IF: 6.04)

•          Rukhshan Khursheed, Anila Jaleel, Kiran Namoos et al., Circulating Monocytes to Lymphocytes Ratio and Vitamin D levels in patients with Active Tuberculosis and Close Family Members. Submitted- Nagoya Journal of Medical sciences

•          Anila Jaleel, Samar Asim, Kiran Namoos, Sadaf Saleem Uppal, Shahila Jaleel, Waqas Shabbir and Rukshan Khursheed. Anti-SARS-COV-2 antibodies Amongst Asymptomatic Healthcare Workers and students of Tertiary Care hospital andMedical School in Pakistan"American Journal of Health, Medicine and Nursing Practice,2021; Vol.6 (3):25 – 38, 2021 -ISSN 2520-4017 – (IF: 3.2)

•          Rukhshan Khursheed, Anila Jaleel, Farrukh Javaid et al., Frequency of COVID 19 in children and adults in city of Lahore, Pakistan. American Journal of Clinical and Experimental Medicine, 2021;Vol. 9( 3): 73-76. doi: 10.11648/j.ajcem.20210903.14 (IF:1.2)

•          Shah S., Andrades M., Basir F, Jaleel A,,Azam I, Islam M et al. Has the inclusion of a longitudinally integrated communication skills program improved consultation skills in medical students? A pilot study. J Family Med Prim Care 2016; 5: 45-50.

•          Syed Zaryab Ahmad, Anila Jaleel, kamran Hameed—- Serum Vitamin D Concentration  In  Asthmatic Children   its association with recovery time from asthma. British Journal of  MEDICINE AND MEDICINAL RESEARCH,2015;10(6):1-10

•          Anila Jaleel, Bilal Aheed, Shahila Jaleel  et al. Association  of Adipokines with obesity in  children and adolescents.  Biomarkers Medicine 2013;7(5):731-735 (I.F 2.63)

•          Imran A Siddiqui,  Anila Jaleel, Hanan M F Al Kadri, Sufyan Akram, Waleed Tamimi. Biomarkers of Oxidative Stress in Women with Preeclampsia. Biomarkers Medicine, 2013;7(2): 229-2341-6 (I.F 2.63) DOI 10.2217/bmm.12.109 (I.F 2.63)

•          Faisal Yaseen, Anila Jaleel et al Circulating levels of resistin, IL6 and lipid profile in elderly heart disease patients with and without diabetes.  Biomarkers  Medicine,  2012 Feb;6(1):97-102  (I.F 2.63) doi: 10.2217/bmm.11.104

•          Imran  I Siddiqi, Anila Jaleel Hanan M.F Al Kadri. Iron Parameters in preeclamptic women. Arch Gynecol Obstet, 2011 ; 284(3):587-91.(IF : 1.27) doi: 10.1007/s00404-010-1728-221007/s00404-010

•          Anila Jaleel Saima Aqil Farhan Jaleel et al.Adiocytokines in subjects with and      without cerebrovascular disease. Acta Neurologica,2010;110:234-238 ( IF:0.33) PMID:21114131

•          Imran I Siddiqi, Anila Jaleel et al.   Role of Oxidative Stress in the Pathogenesis of Preeclampsia Arch Gynecol Obstet (2010) 282:469–474 ( IF:1.27)-online available DOI 10.1007/s00404-010-1538-6

•            Anila Jaleel Saima Aqil Farhan Jaleel et al.Adiponectin and Infarction size in subjects with and   without   cerebrovascular disease.  Neurosciences 2009;14 (3): 7-9 www.ncbi.nlm.nih.gov/pubmed/21048624‎

•          Saima Aqil  Anila Jaleel  Farhan Jaleel and Fasia Baseer .  Comparison of adiponectin in ischemic heart disease versus ischemic stroke in diabetic patients. World Applied Sciences Journal, 2008; 3 (5): 759-762

•          Farhan Jaleel, Anila Jaleel  Rehan Majeed and Ejaz Alam Leptin and Blood Lipid Levels in Smokers and     Ex Smokers. World Applied Sciences Journal, 2007; 2 (4): 348-352

•          Ghulam Ali Memon, Javed Aftab, Qudsia Hassan,  Anila Jaleel.  In –Hospital Complications after Coronary Stenting. World Applied Sciences Journal, 2007; 2 (5): 447-450 

•          Farhan Jaleel, Anila Jaleel  Jawaid  Aftab and M Ataur Rahman. Relationship of  adiponectin,blood  lipids and glycemic control in postmenopausal diabetic women with and without complication of ischemic heart disease (IHD). Clin Chim Acta 2006: 370; 76-81 (IF: 2.66) dx.doi.org/10.1016/j.cca.2006.01.022, PMID:16516182

•          Farhan Jaleel  Anila Jaleel  Jawaid  Aftab and M Ataur Rahman.  Leptin and blood lipids in postmenopausal diabetic women with and without complication of ischemic heart disease. Medical Science Monitor,2006 ; 12(9): CR382-386 (IF: 1.7) PMID:16940932

•          Siddiqui IA, M Ataur Rahman and Jaleel A Efficacy of weekly iron supplementation           in school children with low iron status.  Journal of Tropical Pediatrics, 2004; 50 (No 5):276-78 (IF: 1.38)

•          Jaleel A and M Ataur Rahman,.Daily iron supplementation versus intermittent dose  Saudi Medical Journal, 2004 Vol 25 (8): 1124-25 (IF: 0.52)

•          M Ataur Rahman, Jaleel A, and RA Khan.Nonheme iron absorption in a typical diet consumed in Pakistan extrinsically labeled with iron Fe 59 . Clin Chem Lab Med, 2002; 40:Special Supplement, pp S1-S352 T-AN –059  (ISSN no:1434-6621) (I.F 2.05)

•          Jaleel A , M Ataur Rahman and Nighat Huda.Problem based learning in Biochemistry: Ziauddin Medical University experience.  Biochemistry and Molecular Biology Education Journal , 2001; 29: 80-84 (IF: 0.84)

•             Anila Jaleel, Imran Akhtar Siddiqi and M Ataur Rahman.                                                           Effective iron supplementation strategy in children and adults. In; Annals of Nutrition and Metabolism. Official Journal of the Federation of European Nutrition Societies. 17th International Congress of Nutrition, Vienna, Austria, 2001; August 27- 31: 1.03.012.

•          A Jaleel and M. Ataur Rahman. Problem based Learning in Biochemistry at Ziauddin Medical University, Karachi, Pakistan. Proceedings of 3rd National conference on Medical Education, Dhaka, 2000.

 

National Publications

Anila Jaleel, Mazhar Shafique, Samar Asim et al., Correlation of Radiological findings (HRCT chest) with Anti-SARS-COV-2 Antibodies in Patients visiting Tertiary Care Hospitals. Submitted in Annals of King Edward Medical College

•          Anila Jaleel. Impact of Online Teaching during COVID 19 Pandemic on Outcome of Medical students in Pakistan (Editorial) PJMD 2021;10(3): 1

•          Waqas Shabir, Rukshan Khursheed, Kiran Namoos, Anila Jaleel et al., Biomarkers and Liver Enzymes in Moderate and Severe COVID-19 Patients: A Retrospective tertiary care hospital study. PJMD 2021; 10(3):3-6

•          Anila Jaleel, Zohra khanum , Imran A Siddiqui et al., Discriminant Validity and Reliability of Scores of Multiple Choice and Short Essay Questions.  Biomedica 2020; 36(2): 193-198

•          Anila Jaleel and Zohra Khanum. Pre and Post examination Evaluation of MCQs and SEQs Items in Undergraduate MBBS Mock Examination of Biochemistry and Physiology in Private Medical College Lahore – The professional Journal 2020; 27(12):2749-2754. https://doi.org/10.29309/TPMJ/2020.27.12.4474

•          Zaryab Ahmad, Anila Jaleel, Kamran Hameed et al.,  Association of Vitamin D Levels and Risk Factors of Asthma on Asthma Exacerbation in Children and Adolescents of Age 5 To 15 Years in a Subset of Karachi Population-PJMD 2020:9(4):14-19

•          Anila Jaleel. Intensity and rate of Covid 19 infection in Pakistan. PJMD 2020;vol9(3): 1 (Editorial)

•          Imran Ali., Anila Jaleel et al. Correlation of plasma fibrinogen levels with variables in patients with type 2 diabetes mellitus with microvascular complications . Pakistan Journal of Medicine and Dentistry, 2019; 8(2): 35-39

•          Anila Jaleel and Zohra Khanum. Quality Assurance in assessments: Do MCQs Scores Correlates with SEQs in Internal Assessment MBBS Examinations. Biomedica,2018;34(3):200-203

•          Farouq Qamar Malick, Imran A, Anila Jaleel et al. Kat G gene association with Isoniazid resistance in multidrug drug resistant tuberculosis: PJMD,2019;8 (3):2-5

•          Anila Jaleel. Is there need to reform undergraduate medical education in Pakistan?  Pakistan Journal of Medicine and Dentistry, 2017;6(3)1-2 (Editorial)

•          FAIZA AAMER, ANILA JALEEL , SHAZIA JAMEEL AND AAMIR ASLAM. COMPARATIVE STUDY ON EFFECT OF CONDENSED TANNINS OF SUPARI AND NEEM EXTRACT ON LIVER FUNCTIONS OF RATS. PJMHS,2016;10(4):1342-1347

 

•          Syed Zaryab Ahmad, Anila Jaleel, Kamran Hameed et al. Does vitamin D deficiency contribute to the severity of asthma in children and adults. J Ayub Med Coll Abbottabad 2015;27(2):458-63

•          Rehan Majeed, Anila Jaleel,  Riffet Khursheed et al., Variation of  Vitamin D levels in healthy population  of Islamabad.  Isra Medical Journal, 2014 ;6 (3):121-3

•          Anila Jaleel. Peer Assisted Learning: A need of research in medical schools Pakistan Journal of Medicine and Dentistry,2014;vol 3 (03):1-2(Editorial)

•          Qudsia Hassan, Anila Jaleel, Zahid basher et al., Amino Acid racemization human dentine as an estimator of chronological age-A study in Karachi Pakistan. Pakistan Journal of Medicine and Dentistry,2014;vol 3 (01):3-11

 

•          Anila Jaleel , Bilal Aheed et al–.Circulating levels of adipokines and TNF @ in subjects with and without diabetes Mellitus Type 1 – JDUHS,2013;7(1): 10-14

•          Noreen Jaffri and Anila Jaleel Stress levels in Medical Students JCPSP,2012 ;22(6):416 (IF: 0.7) 1022-386X

 

•          Kashif Nisar, Anila Jaleel et al. Visfatin and its relationship with the severity of coronary artery disease in Pakistani population Med.Forum,2012;23 (No3):27-30

 

•          Noreen Jaffri and Anila Jaleel  Perception of Medical Students'   on Structured           Viva Examination in; An Integrated Undergraduate Curriculum At Ziauddin University- JDUHS, 2011,vol 4 :4-7

•         

•          Anila Jaleel  and Owais Ismail Comparison of serum adiponectin and IL6 concentrations in nondiabetic and diabetic hypertensive patients who developed cerebral infarct Pakistan J of Pharmacology, 2011; Vol 28 (No 1):1-6

 

•          Anila Jaleel Saima Aqil Farhan Jaleel et al. Circulating Blood leptin levels in subjects with and without cerebrovascular disease. JCPSP,2010,vol 20 (5)350-51 (IF:0.7) 1022-386X

 

•            Anila Jaleel. Ageing and Health: Free Radicals and Oxidative Stress,            JCPSP,2008; 8 (Vol 18): 465(IF:0.7)

•          Saima Aqil and  Anila Jaleel. Interleukin 6: inflammation and Ischemic   Stroke                       Medical Channel 2007; Vol 13 (No 3): 164-65

•          Jawed Aftab, Anjuman Gul, Farhan Jaleel, Anila Jaleel. Frequency of hot and cold nodules in patients with goiter by thyroid scan. Medical Channel, 2007, Vol 13 (No1): 64-67

•          Farhan Jaleel  Anila Jaleel  M Ataur Rahman and Ejaz Alam. Relationship of Adiponectin and Lipid Profile in Obese  Postmenopausal Women. JPMA,2006; Vol56(9): 391-94 ISSN: 00309982

•          Anjuman G Memon, Anila Jaleel and Jawaid Aftab. Pattern of prostatic carcinoma     metastasis in bones detected by bone scan . Pakistan Journal of Medical Sciences 2006; Vol 22 No 2  :78-81

•          Farhan Jaleel Anila Jaleel and M Ataur Rahman.Adiponectin ! obesity and  coronary artery disease. Medical Channel, 2006; 12  :37-39

•          Anila Jaleel .Are Adipocytes Passive depot  of energy or has                                         c       any role in energy balance?  JPMA, 2005;55 No12: 524-5 ISSN: 00309982

•          Anjuman G Memon M Ataur Rahman and Anila Jaleel CHANGES IN GLYCOSYLATED PROTEINS IN TYPE-2 DIABETIC PATIENTS  WITH AND WITHOUT COMPLICATIONS . JAMC 2005;17(3): 34-38

•          Abdul Rahman, Jawaid Aftab, Rehan Majeed and Anila Jaleel Pattern of Perfusion defects seen in Ischemic Heart disease patients on TC 99m scanning", JAMC 2005; 17(3): 51-54

•          Anjuman G Memon, Anila Jaleel and Jawaid Aftab Frequency  of metastasis of breast carcinoma in bone  detected by bone scans using Tc99m imaging technique. Medical Channel, 2005; 11 No 3: 7-11

•          A Jaleel and M Ataur Rahman and RA Khan Absorption of  Nonheme iron  in  typical and standard meals using extrinsically labeled with iron Fe 59JPMA,2004; 54(No5): 244-248 ISSN: 00309982

•          Javed Aziz , IA Siddiqi and Anila Jaleel Anemia in Pregnancy: Relationship with parity and low birth weight of newborn Medical Channel, 2004; Vol 10No 4: 23-25

•          Akhtar I, Jaleel A, AtaurRahman M.  Preventive strategy to control iron deficiency anemia in children and adults. J P M A 2003, 53 No 4: 131-133 ISSN: 00309982

•          Jaleel A, Siddiqui IA and M Ataur Rahman Do we need daily iron supplementation? Comments and controversies.  JPMA, 2003; 53 No 4: 162-164 ISSN: 00309982

•          Rehan Majeed, Anila Jaleel and Abdul Baseer  Tropnin T; An early marker of myocardial injury.     Spectrum, 2003; 24 No 4:13-15

•          Majeed R, Jaleel A , Akhtar I S, Pervaiz S and Baseer A. Comparison of   TroponinT and enzyme levels in patients of acute myocardial infarction and skeletal    muscle injury.  Ayub Medical Journal, 2002; 4.4:5-8

 

•          Jaleel A            Preventive strategy to control iron deficiency. Published in Pulse (Doctors Publication) May 01, 2002.

 

•          Jaleel A and Baig S Virus through gene therapy.J.P.M.A.2000;                                              50(1):2- 3 ISSN: 00309982

 

•          Jaleel  A and Baig  S. Classification and diagnosis of DiabetesMellitus: A recent  proposal-  J.P.M.A.1999 ;47: 202 ISSN: 00309982

 

•          Jaleel A, Shams I, Akhtar I and Baseer A Serum Uric Acid . The predictor of HELLP syndrome.J.C.P.S.P.1999.vol 9(7); 302-303 (I.F 0.7) 1022-386X       

 

•          Jaleel A  and Baseer  A.           Biochemical Parameters for detection of                                         hemolysis  in PIH women: J.C.P.S.P 1999.vol; 9(1):143-5(IF:0.7)   

•          Jaleel A and Baseer  A.Gamma Glutamyl transferase activity (GGT)in

      Pregnancy Induced Hypertensive women Specialist, 1997.Volume;14: 67-71

 

•          Jaleel A and Baseer A. Thrombocytopenia in preeclampsia. An  earlier        indicator of "HELLP" syndrome. J P M A, 1997; 47: 230-32 ISSN: 00309982

 

Published in Newspaper

•          Our Limitations: Published in Dawn 27th April 2020

•          Kitchri: A new strategy to prevent iron deficiency. Published in Jang (Newspaper-Karachi) June 20, 2002

•          First Ph.D from Ziauddin Medical University and details of research work done. Published in Daily News (Newspaper- Karachi), March 20, 2002

•          Interview published on  iron supplementation, March 17,2002, Financial Post

 

Oral Presentation at International Conferences

•          Jaleel A: Process Oriented Guided Inquiry method (POGIL) : 4th  International Conference Challenges of change: Feb 1-2, 2020  Shalamar Medical and Dental College , Lahore

•          Jaleel A Nighat Huda Noreen Jaffri Analysis of Objective Structured Viva Examination (OSVE) in an integrated PBL curriculum. ICME conference 2009, Jan 26-27, Islamabad

•          Jaleel A Nighat Huda. Faculty Development: An integrated curriculum at Ziauddin University, International Conference on Medical Education Sep 29, Lahore,2008

•          Jaleel A , I A Siddiqui and M  Ataur Rahman.Effective iron supplementation  strategy in children and adults Oral presentation at 17 th  International Congress of Nutrition, Vienna  24-27 August,2001

•          Jaleel A, M.Ataur Rahman and Nighat Huda    Problem based learning in       Biochemistry: Ziauddin Medical University experience. Presented at 3rd National conference on Medical Education .Dhaka. Bangladesh. Feb19-20,2000

•          Jaleel A and M.  Ataur Rahman.Weekly Vs Daily Supplementation in Pakistani Individuals. Presented at 7 th WICCN Conference, India. Oct  14-17,1999.

Oral Presentation at National Conferences

•          Bilal Aheed Anila Jaleel Adnan Zuberi  Adipokines in Obesity. PAP Conference Lahore 2014

•          Invited Speaker : Integrated curriculum at Ziauddin University: Bahria University Symposium 2012.

•          Jaleel A, Saima Aqil Farhan Jaleel. Study on adiponectin and interleukin 6 in ischemic cerebrovascular disease. SAARC conference on Physiology 2008, Sep 27-28

•          Farhan Jaleel, Jaleel A and Nazarul Hasnain.  Problem based profile learning in Biochemistry Presented at Biennial Conference, Liaquat Medical and Dental college and Karachi University,  Karachi, March17, 2005

•          Anila Jaleel and M Ataur Rahman.Relationship of adiponectin and lipid in postmenopausal diabetic women with and without complication: presented at 18th FAOBMB meeting . November  20-23, 2005

•          Jaleel A, M.Ataur Rahman and Nighat Huda.Problem based learning in Biochemistry: Feedback by undergraduate students at Ziauddin Medical University . Presented at 7th Biennial Conference , Pakistan Society for Biochemistry and Molecular Biology, Lahore, 2003, April 2-5

•          Jaleel A and Baseer A. Biochemical parameters for evaluation of HELLP Syndrome. 33rd Annual Symposium, JPMC. ( 1995)

•          Jaleel A and Baseer A. Early detection of "HELLP" Syndrome in Pregnancy Induced Hypertensive Women (PIH).1st Annual Symposium. Liaquat National Hospital, Karachi.1995

Poster Presentation

•          N Huda and A Jaleel  Faculty Development: A Comprehensive                 Strategy of an Innovative Medical School in Pakistan – Human Resources for Health: Recruitment, Education and Retention International Conference Sep 15-20, 2007   

•          Jaleel A, M Ataur Rahman and RA Khan.Iron absorption Measurements using     extrinsically labeled iron Fe59. Presented at 17th FAOBMB symposium, Bankok, Thialand, November 22-26, 2004

•          Jaleel A, M Ataur Rahman and RA Khan.Nonheme iron absorption in a typical diet consumed in Pakistan extrinsically labeled with iron Fe 59 Excellent poster award 30,000 yen at 18th International Conference on Nutrition ,Kyoto, Japan. 20-24 Oct 2002.

•          Anila Jaleel, M Ataur Rahman and RA Khan.Comparison of Nonheme iron     absorption in  standard and test meal using extrinsically labeled iron 59 Fe

•          Poster presentation at 7th Biennial Conference , Pakistan Society for Biochemistry and Molecular Biology, Lahore, 2003, April 2-5

•          Jaleel A and Iqbal S. Serum Uric Acid: An indicator for preeclampsia. Poster presentation at 14 th symposium at C.P.S.P.1999

Ph.D/ M.Phil Students Supervised:

1.         Ph.D-Biochemistry: Dr Imran A Siddiqi: worked on topic of Evaluation of biochemical parameters in Preeclampsia – Passed 2010 (Supervisor)

2.         Ph.D: Dr Qudsia Hassan : Amino Acid racemization human dentine as an estimator of chronological age. Passed 2016 (Co-Supervisor)

3.         M.Phil Biochemistry: Dr Zaryab- worked on Correlation of Vitamin D with asthmatic exacerbations in children-Passed 2016

4.         M.Phil –Biochemistry: Dr Bilal Aheed-Worked on topic of  Study on Adipokines in obese and Type 1 Diabetic children and adolescents-Passed 2014

5.         M.Phil –Biochemistry: Dr Kashif Nisar-Worked on topic of Viafatin and leptin adiponectin ratio in ischemic heart disease-Passed 2012

6.         M.Phil –Biochemistry: Dr Faisal Yaseen: worked on topic of Resistin and Interleukin 6 in diabetics with and without IHD- Passed 2011

7.         M.Phil –Biochemistry: Dr Saima Aqil : worked on  topic of cytokines in ischemic stroke  -Passed  2008

8.         Currently enrolled  5  FCPS candidates in Biochemistry

Research Projects Funded by the Funding Agencies

 

1. Principal Investigator in project titled:

·                     Study on adipocytokines in children and adults: Higher      Education Commission (HEC) Rs 800000: 2010-11

2. Principal Investigator

·         Association of Interleukin 6, Adiponectin and Blood Lipid Levels in Ischemic Stroke Patients

Funded by Pakistan Science Foundation , 2008

 PSF/Res/Zu / Bio (238)

3.   Principal Investigator

·                        Relationship of Resistin, Interleukin 6 and    lipid profile to the extent of  vessel disease determined  by angiography in diabetes and      Ischemic heart disease (IHD) patients          Funded by PMRC, 2008

4. Principal Investigator

·         Relationship of Adiponectin and Leptin to lipid profile in postmenopausal women

     Funded by Pakistan Science Foundation , 2004

     Proj No : PSF/ CYs/ Zu/ Bio (40)

5.Co. Principal Investigator in project titled

Oxidative stress in pregnancy. King Abdullah International Medical Research Center, Riyadh, KSA, 191000 SR, 2008

6. Co-Principal Investigator: Estimation of Age by the use of L and D Amino acids  -Funded By  HEC: Rs 1100000

7. Acquired funding from Ziauddin University of Rs 165,000 for study on iron kinetics

8. Co-Principal investigator in project titled Effective communication skills in medical students . Funded by AKU

Research Project in M.Phil

Syndrome of hemolysis, elevated liver enzymes and low platelet count in pregnancy induced hypertensive women.

Research Project in Ph.D.

Studies on Iron supplementation and nonheme iron  absorption in human subjects  using extrinsically labeled iron Fe59.

Worked on various equipment's like Gamma Counter, Atomic Absorption     Spectrophotometer, ELISA and Microlab while doing research on the project of iron deficiency anemia. Various techniques were developed for researchers for estimation of nutritional        status of food like lipids, proteins and anion exchange method for estimation of phytate

Ph.D thesis was examined by

·         Prof S Shahab Ahmed –Temple University. Philadelphia.USA

·         Dr Nessar Ahmad- Manchester Metropliton University.UK

 

Academic & Professional Honors

·         Excellent poster award 30,000 yen at 18th International Conference on Nutrition ,Kyoto, Japan. Oct 2002. 

·         Honor  (7th position) in S.S.C Exam. Karachi Board

Workshops

Chaired session on biochemistry in 4th International Conference Shalamar Medical and Dental College, 2021
Facilitated workshop on Qualitative research, 30 th Jan 2021
Attended workshop on Mentor Mentee July 26 , 2021
Attended workshop on Open Book Assessment, Feb  2021
Attended workshop on Literature search and review, 31st Jan 2021
Attended workshop on blended Learning Feb 2021
Chaired session on biochemistry in 4th International Conference Shalamar Medical and Dental College, 2020
Workshop attended on Managing change in healthcare setting: 4th International Conference Shalamar Medical and Dental College, 2020
Workshop attended on QualitativeResearch: 4th International Conference Shalamar Medical and Dental College, 2020
Co-Chaired session on Biochemistry in 3rd International Conference: Shalamar Medical and Dental College, 2019
Facilitated two workshops on Problem Based Learning in September and October  2019 at Shalamr Medical and Dental College, Lahore
Workshop attended on Concept paper: April 2019 Shalamar Medical and Dental College -Lahore
Workshop attended on Item analysis: January 2019 Shalamar Medical and Dental College -Lahore
Workshop attended on Calorie calculation of carbohydrates in diabetic patients –Feb 2019 Shalamar Medical and Dental College -Lahore
Workshop attended on SPSS –Feb 2019 Shalamar Medical and Dental College -Lahore
Workshop on Portfolio development February 2017: FMH college of Medicine and Dentistry- Lahore
Facilitated three workshops on Problem Based Learning in January, February and July 2016
Workshops on integrated curriculum at University of Health Sciences in 2014, 2015 1nd 2016.
Workshop on Adult learning principle and curriculum. Fatima Memorial college of Medicine and Dentistry, Lahore, November 5, 2014
Conducted workshop on Introductory session on Medical Education, CMH Medical College , Lahore Nov 21,2012

·         Advanced Course on Curriculum Planning –AKU-April –June 2012

Advanced Course on Program Evaluation and Leadership AKU –Oct-Dec, 2011
Chaired session on Mentoring held at Bahria University Feb 6 2011 Facilitated workshop on Medical Education on PBL Sep 23-Oct12 2009
Facilitated organization of workshop on Anger management August 2009
Participated course on program Evaluation and leadership at AKU (Oct-Dec 2011)
Participated workshop on Medical Education DUHS 15, 16 Jan 2011
Participated Workshop held by HEC on semester system 9,10 Feb 2011
Communication Skills Ziauddin University June 16-18, 2009
Education and Planning. CPSP Oct 28-Nov 2, 2007
Assessment of Competence in Skills CPSP Nov 26-30, 2007
Research Methodology CPSP Dec 11-14, 2007
Supervisory Skills CPSP Dec 26-30, 2007
Workshop on Education Towards 2035  Becanhouse School System Dec 1,2005
Workshop on infectious diseases and Molecular Biology at Aga khan Medical University Karachi-Pakistan.21-25 sep.1999.
Workshop on Poison Control Program for Pakistan under the Chemical safety-JPMC( under the auspices of MOH and WHO) Sep11,2002
Workshop on Information handling in Health Sciences and promotion of networking in Medical Libraries. Ziauddin Medical University, May 27-28, 2002.
Certificate course in Medical Education March 10,2007 to July 12 2007  at Ziauddin Medical University regarding:

·         Objectives Writing

·         Problem based learning

·         MCQ writing

·         Structured lectures

·         Determining  MPL

·         Designing Assessment TOS